Pacific Island Digital Library Project (Winter 2015)
Overview and Target Community:
Our group has chosen to work towards creating a casing for the Banana Pi computer system and a solar panel to power it. We will be working with Dr. Laura Hosman (http://ict4dviewsfromthefield.wordpress.com) with the purpose of delivering these self-contained systems to schools in Micronesia. More specifically, our target communities are within the state of Chuuk. These communities are eager to expose their children to technology based education and to date have responded with positive feedback to Dr. Hosman's contributions.
We are building upon the work of students in previous quarters, whose work can be viewed here: http://appropriatetechnology.wikispaces.com/Enhancing+Communication+in+the+Pacific+Islands
Goals:
The progress of technology and our increased reliance upon it has created a strong need for access to information and education on modern computing systems. However, in places such as Micronesia, Internet access is either limited or nonexistent.

By delivering the Banana Pi systems to locations which generally lack the resources for information technology (Internet, electricity, etc.) we can give children the opportunity to satisfy their curiosity and learn about subjects previously out of their reach.
The Technology:
The system that will be delivered to Chuuk, Micronesia, is the Banana Pi singleboard computer. The entirety of the system is 9.2X6 centimeters, making it easy to transport. The system itself (including the solar panel) costs less than $150, making it an affordable solution to technology deficits.
The Banana Pi system will come with a software system called RACHEL, which will include may different resources for educating students, including Wikipedia for Schools, CK-12 STEM Textbooks, and healthcare videos.
Design Challenges:
Our group is charged with designing and building a housing for the Banana Pi system and solar panel. The casing must protect the computer from wear and tear, but also be relatively cheap. The schools will likely be near the ocean, and increased salinity and humidity must be considered. Additionally, it must release heat efficiently enough to avoid overheating. As the RACHEL system is delivered on a SD card, there must be a way to access the memory card without disassembling the case. This system is going to be distributed to classrooms with young children in them, and it would be preferable if the casing's design took into account certain aesthetic features. For instance, if it was clear, students would be able to observe exactly what they were interacting with. Additionally, if it was colorful or otherwise pleasing to the eye, it would infer a more positive connotation and be more attractive in the eyes of the students. We will be working to come up with a design with these ideas in mind this quarter.
Brainstorming and Research
To begin we looked into available casings for the raspberry pi, a model similar to the banana pi, and other related products. Incorporating Dr. Hosman's desires for the housing unit we were able to select various features from different designs and considered other valuable features.
Some of the current designs we found:
http://www.amazon.com/SB-Raspberry-Pi-Case-Clear/dp/B008TCUXLW
http://www.raspberrypi.org/satellite-ocean-monitoring/
http://www.raspberrypi.org/fish-pi/
We are currently researching available solar panels and batteries. The current kit has previously selected panels and battery but we must determine if they are sufficient for the purpose of the project.
Design Matrix of Potential Housing Units
| | | | | | | | | | | | |
| --- | --- | --- | --- | --- | --- | --- | --- | --- | --- | --- | --- |
| | Cost of building | Cost of Use | Environmental Impact | Accessibility | Time to setup | Durability | Maintenance | Maintainance knowledge | Aesthetics | Total | Out of a perfect score |
| Tupperware | 10 | 9 | 10 | 8 | 10 | 8 | 8 | 7 | 10 | 80 | 80.00% |
| Box | 7 | 9 | 10 | 4 | 7 | 9 | 7 | 8 | 8 | 69 | 69.00% |
| 2-piece | 5 | 9 | 10 | 5 | 6 | 6 | 7 | 6 | 7 | 61 | 61.00% |
Our initial results with the design matrix affirmed our interest in first pursing a tupperware inspired housing unit.
Current Design in Progress

Weather Factors to Consider for Solar Panel Angles:
0

°

6 55'N, 158

°

09 E'
Tropical climate
Heavy rains during summer
330in of average rain per year
80% Humidity
Questions about design that still need to be addressed:
Will the solar panel be adequate, inadequate, or over-adequate for powering the battery?
Will the battery fulfill the teachers' needs for running the computer?
Will the solar panel need to be mounted permanently?
Which solar panel (5 Watt or 10 Watt) meet our needs?
What material should the container be made out of?
How low can we keep the cost of the container
Prototype: Tupperware Design Realized:
A bird's-eye view.
How the model looks like from the bottom side.
The inside of the box will be able to store all of the components with ample room for any additions. We still need to work on a way to secure the items.
The lid can be mounted on the case at an angle, allowing for the solar panel to face the sun at various angles.
And perhaps the best part of this model: it only costs around 8 dollars!
Prototype #2
New solar panel required a new container
Padding for the different components (used foam)
Prototype still needs to be modified for sleeker and "sexy" appeal
Still questioning if new solar panel should serve as lid or attached to a lid
Second Prototype Purpose/ Current Situation
Dr. Hosman planned to travel to Vanuatu during finals week and present the all-in-one kit to primary contacts. This was delayed due to a
disastrous cyclone.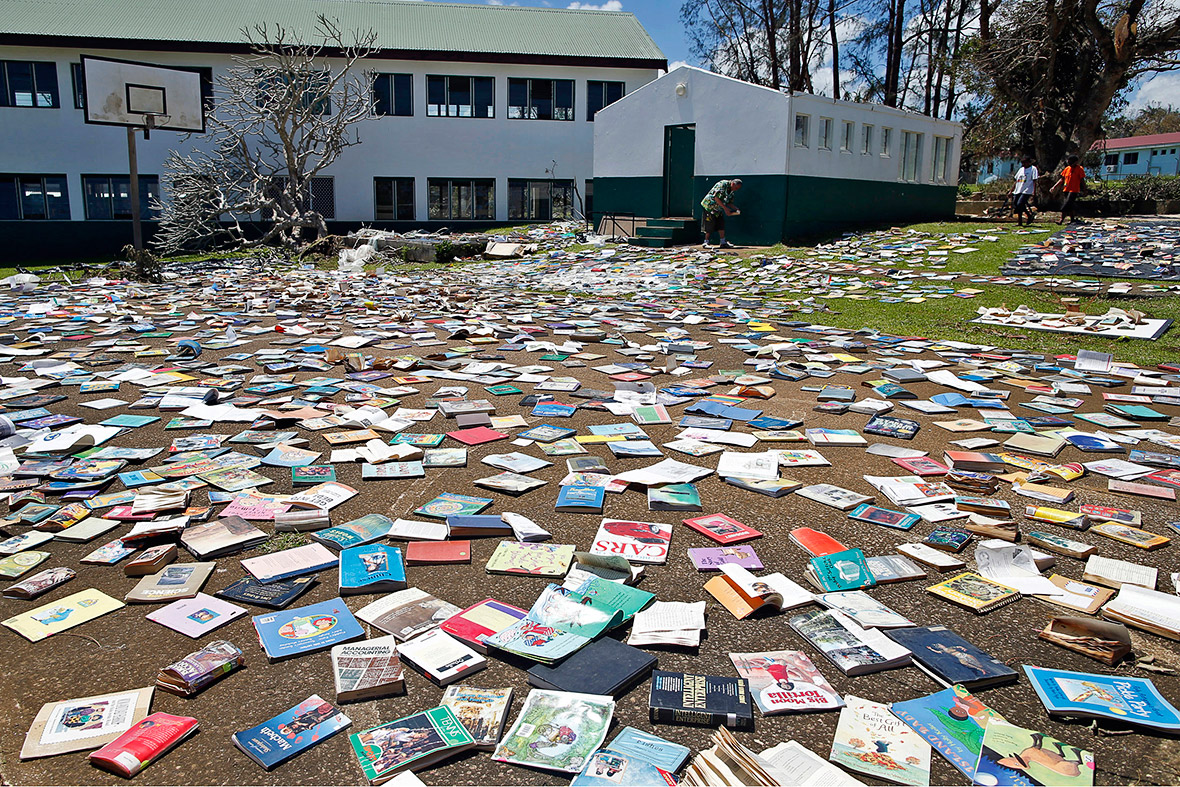 Cyclone Pam Vanuatu photos

Headmaster lays out books to dry in the sun after the roof of the school's library was blown away by Cyclone

Project Continuation in LAES 411
Future students will continue the development of the all-in-one kit container next quarter. We will be communicating our research, conflicts, and successes with this new group.
Who are we?
We are the students of UNIV 392 at Cal Poly, a class dedicated to considering appropriate technology in a world where some places are far more modernized than others.
(Left to right: Patrick Robertson, Anoop Thakore, Yenny Zaldivar, Naina Viswanath, and Dr. Laura Hosman)
This website looks good and complete to me – Pete

Past Correspondence: I find this very well organized and explained.
I think your design matrix needs to somehow reflect the effectiveness of of charging if the panel is or isn't in the sunlight.
I am not able to see any of the 4 images you have for your moderate fidelity prototype. I tried all 3 browsers and none of them display them.