SLO CREEK FARMS GOING ORGANIC!
Apple harvest
HISTORY
The Gable family is the owner and operator of the apple orchards. The orchards are divided into three major plots that total 40 acres of land. Until a couple years ago, the family had hired a farm hand to take care of the orchards, but had taken over the responsibility because their worker had past away. Since the shift, the Gable family had decided to make the choice to go all-organic at their farms. Although this is helpful to the Earth and the customers that they will be serving, they have had many setbacks due to numerous pest and fungi problems that have occurred. In addition, San Luis Obispo Creek runs through the orchards that provides easy access to water, but also causes flooding problems once a year. "Their Problems" section provides more information about these major problems on the farms.
Since their take over, the family has worked hard to not only farm an organic orchard, but to create a place where the community is welcomed. They have recently started a U-pick Program that allows families to come to their farm and interact where their fruit is grown. Their apple selection includes: Empire, Early Fuji, Gala, Sundowners, Granny Smith and Braeburn. They put on many events like yoga in the orchards, the Annual Apple Blossom Festival, and Apple Blossom Walk Fundraiser. Many of these activities are apart of their Green Love Program that includes other activities and natural food products that are healthy and sustainable.
To learn more about SLO Creek Farms and the Green Love Program visit their sites at:
http://www.slocreekfarms.com/
http://www.greenlovesmoothie.com/activities.html
PROBLEM STATEMENT:
SLO Creek Farms needs to reduce crop damage and conserve energy.
PROJECT LOCATION:
Aerial view of project site. SLO Creek Farms is located just south of San Luis Obispo on the east side of Highway 101 near the San Luis Bay Drive overcrossing.
PROJECT GOALS:
Create an alternative method for watering the apple orchards that helps improve the farms' production quality and quantity.

Develop a systematic design for drip line irrigation on the farm. The Gable family is looking to end their partnered water supply with San Luis Obispo Land Conservancy and would like a system that can tap into the only well that they own themselves.

Reduce the invasive Apple Scab desease at the farms. This infectious desease can spread quite rapidly if it is not properly addressed in the beginning stages of growth. This is the farms' biggest problem because, even tough the apples are still edible, they are not aesthetically pleasing to consumers. This disease reduces the demand by large companies and greatly affects their sales revenue.

Bitter pit is a disorder that occurs in apples that are calcium deficient. Although there is not a prominent method of action to counter this disorder, our goal is to provide multiple suggestions that have proven effective by other farmers.

Mitigate gofers and mice away from the farms to ensure that these small foragers do not affect the output of apples by nesting in weeds that grow around the stump of the apple trees, chewing on the tree bark, and digging holes that affect the root systems.
PERSONAL GOALS:
Learn innovative organic farming techniques.

Understand the differences between organic methods in theory and in practice and how some organic theories may not work in practice.

Find a solution that SLO Creek Farms can utilize in their orchard.
PROJECT EFFECTS:
With the completion of this project, our group hopes to have part in helping the Gable family farms transition from traditional to all-organic farming.
GROUP MEMBERS:
Jessica Riconscente: Fourth year Industrial Technology student minoring in Sustainable Environments and Packaging.
j.riconscente@gmail.com
Angela Mueller: Fourth year Landscape Architecture student minoring in Sustainable Environments and Landscape Horticulture
amuell01@calpoly.edu
Hannah Kassis: Fourth year Liberal Studies Major minoring in Mathematics and recieving a California Multiple Subjects Teaching Credential.
hkassis@calpoly.edu
Louis Lefebvre: Civil & Environmental Engineering graduate student, focusing in water/wastewater treatment and water resources.
louis.l.10.25@gmail.com
Side view of the smallest plot of trees. This particular plot is the closest to the corner of San Luis Bay Drive and Monte Road and has 40 rows with 80 trees in each row.
A portion of SLO Creek Farms that is not planted with apple trees. This maybe the future sight of a set of community gardens.
A closer view of the dormant apple trees that are in the small plot near the corner of San Luis Bay Drive and Monte Road. These trees are of the dwarf variety; about 6 ft tall.
---
THEIR PROBLEMS
FLOOD ZONE
SLO Creek Farms is located in Avila on a major flood zone. It will typically flood for a few weeks each year. The flooding with cover almost all of the tree. It destroys the top soil and everything else in its path. This is a major problem for SLO Creek Farms and is something we have kept in mind while researching, planning and attempting to create solutions to the farms' other problems.
Flood Zone at SLO Creek Farms
PESTS AND FUNGI AT SLO CREEK FARMS
Below are the main pests and fungi that have been identified at SLO Creek Farms.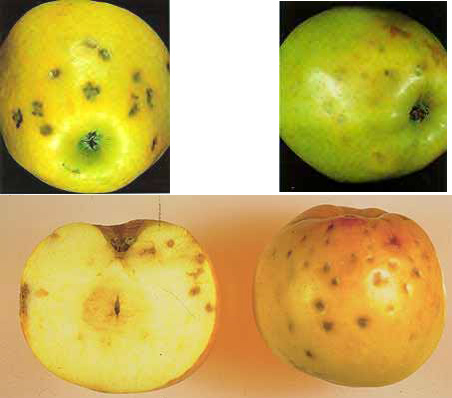 Bitter Pit disease
Pill Bugs
Coddling Moth
Orb Weaver Spider
Gophers and other rodents such as mice can cause damage to the apple tree itself, compromising its health.
Applpe scab is the primary disease of concern at SLO Creek Farms
---
OUR PROPOSED SOLUTIONS
DRYLAND FARMING
View of a Dry Farm
Dryland farming is not a new technique. "Dryland farming is used in the Great Plains, the Palouse plateau of Eastern Washington, and other arid regions of North America, the Middle East and in other grain growing regions such as the steppes of Eurasia and Argentina. Dryland farming was introduced to southern Russia and Ukraine by Russian Mennonites under the influence of Johann Cornies, making the region the breadbasket of Russia.[1] In Australia, it is widely practiced in all states but the Northern Territory." (1)
Through our research and speaking with the neighboring farm See Canyon Fruit Ranch we believe that dry farming is a feasible option for SLO Creek Farms. See Canyon Fruit Ranch (an orchard a stone's throw from SLO Creek Farms) dry farmed their orchards for over 100 years before switching to drip irrigation in the last decade only because their trees were so old. As of now the issues with dry farming that we feel SLO Creek Farms may experience if they were to implement it would be a drop in production (though after a few years the quality increases), phased implementation through the whole orchard, and the possibility that the existing trees roots may be shallow due to the existing irrigation methods.
Though it is best to start with a new orchard to implement dry farming, John Williams of Frog's Leap Winery in Napa, CA says that he has converted older wineries to dry farmed ones in the past. (2)
Following are links to websites with further and detailed information regarding dry farming:
(1) – Wikipedia 'Dry Farming' page
(2) – Wines & Vines – This website discusses primarily vineyards; converting a tadtional vineyard into a dry farmed vineyard. We believe the same process could be applied to the apple orchard.
(3) – Sunny Slope Orchard – A blog of an orchard in the Sacramento Valley in California. They discuss their solution to the loss of fertility that occurs in their soils when they cultivate or till them.
(4) – Dry Farming information.doc A link to a document with compiled information about dry farming and its correlation and implementation at SLO Creek Farms.
Diseases and Pest Management
Apple scab is the most economically destructive disease of apples in the world, and it is the most destructive fungal disease affecting the trees at SLO Creek Farms. Apple scab is an early season disease that must be controlled from the beginning in order to prevent a secondary infection. At SLO Creek Farms the disease is caused by the overhead sprinkler that adds unnecessary moisture to the fruit's flower during the primary stage of its growth. Because of the excess water that is trapped within the flower, the bud begins to grow a fungus which in turn causes the fruit to be diseased with apple scab. Since SLO Creek Farms is attempting to turn organic, the farm is unable to use pesticides which could be sprayed on the budding flowers and kill the disease. Because of the transition to organic farming, we have researched numerous organic remedies to control the apple scab. Since the tree is already infected with the disease the best solution is to control the spread. The organic remedies that we have proposed will help in controlling the disease. With the control of the disease, SLO Creek Farms apples should increase health wise as well as beauty wise.
On apples and pears, larvae penetrate into the fruit and tunnel to the core, leaving holes in the fruit that are filled with reddish-brown, crumbly droppings called frass. If left uncontrolled, larvae can cause substantial damage, often infesting 20-90% of the fruit, depending on the variety and location. Within the document below are organic remedies to control coddling moths as well as spraying techniques, for there is a process to which the trees should be sprayed.
Gophers and other rodents such as mice have also been plaguing SLO Creek Farms. The gophers are not only burrowing around the orchards and thus ruining the top soil, but they are nibbling at the bark and roots of the apple trees which is causing growth problems for the trees. There are many organic solutions proposed in the document below which include ways to eliminate the gophers, trap the gophers and ways to prevent the gophers from desiring the trees.
the cycle of disease
Pheromone Dispenser which is hung on the branch of an apple tree to control and prevent the infection of coddling moths
Apple Guild
Instead of attacking a single pest, a guild builds an ecosystem around the apple tree that creates a natural system to alleviate pests that are harmful to foliage of the tree. The ability to control what is included in a guild can over time develop a robust system that can be more adapted and less prone to disasters than conventional farming. The guild in broken down by separate functions, although some plants can provide more than one function.
Illustration of an Apple Guild
The functions and components of a guild consist of: the central element, grass-suppressing bulbs, insect- and bird-attracting plants, mulch plants, nutrient accumulators, nitrogen fixers, soil fumigants and pest repellents, and habitat nooks. We have developed a guild guide, Building an Apple Guild.docx, that considers each pest at SLO Creek Farms and describes each functions' responsibility in the ecosystem.
Irrigation Improvements as an Integrated Solution
Currently the irrigation system employed at SLO Creek Farms' apple orchards is not the most water or energy efficient and seems to be a significant contributor to the orchard's disease challenges. The way the irrigation system is operated now uses conventional, spray (sprinkler) irrigation from an overhead sprinkler head about 10ft off of the ground. This means that much water is lost in the form of evaporation and wind before soaking into the ground. Additionally, the use of sprinkler heads requires high pressures to water all the trees within a given radius. Basic hydraulic principles say that, all other things being equal, systems operating at higher pressures will produce less flow, thus for the apples to get the appropriate amount of water the system will need to be operated longer and at higher energy requirements. In all, high pressures required by sprinkler irrigation produce high pumping costs and energy consumption in the form of electricity to power the pump. The in place system mandates a monthly energy cost, on the order of, $3000 per month during the summer, when water requirements are highest. By modifying the irrigation scheme pumping cost can be decreased and water use made more efficient. Lastly the existing irrigation system seems to inducing much of the disease challenges the orchard faces. The apple scab causing fungi (e.g. venturi inaequalis) produces ascospores (or spores) which are chiefly spread throughout an orchard via splashing rain and or wind. In effect the current system atomizes these spores and contaminates the crop. By either lowering the sprinkler head or using a drip-type irrigation the splashing rain-effect induced by the overhead sprinklers can be eliminated.
One of the wellheads at SLO Creek Farms. Future efforts will require finding exact location of the other wellheads on the property and determining how they're operated.
A group member, Jessica who is about 5′ 2″ standing next to the existing riser pipes with sprinkler head on top.
---
Solution Process
We first consulted SLO Creek Farms to refine the scope of the problem and visited the sight to see what exactly we were dealing with. Then, as a group, we brainstormed many possible solutions. We further refined our possible solution set and entered them the design matrix below:
| | | | | | | | | | | |
| --- | --- | --- | --- | --- | --- | --- | --- | --- | --- | --- |
| Irrigation Methods | Cost | Flood damage/ resistance | ease of use/ operation | ease of implementation | water efficiency | Electricity efficiency | quality of yield | quantity | Risk | TOTAL |
| Weight | 10 | 9 | 5 | 8 | 4 | 9 | 10 | 7 | 9 | |
| Dry Farming | 100 | 90 | 50 | 80 | 40 | 90 | 70 | 28 | 9 | 557 |
| Drip Irrigation | 40 | 36 | 40 | 32 | 28 | 63 | 80 | 49 | 63 | 431 |
| Apple Guild | 30 | 9 | 45 | 24 | 16 | 36 | 80 | 63 | 36 | 339 |
| Sprinkler | 100 | 90 | 50 | 80 | 16 | 18 | 20 | 49 | 90 | 513 |
Then we diverged again to another possible solution set of drip-type irrigation. The drip-type irrigation solution set is presented in the design matrix below:
| | | | | | | | | | |
| --- | --- | --- | --- | --- | --- | --- | --- | --- | --- |
| Drip Irrigation Methods | Cost | Flood damage/ resistance | ease of use/ operation | ease of implement-ation | water efficiency | Electricity efficiency | quality of yield | yield quantity | TOTAL |
| Weight | 10 | 9 | 5 | 8 | 4 | 9 | 10 | 7 | |
| Permanent | 70 | 54 | 50 | 32 | 24 | 63 | 80 | 49 | 422 |
| Short | 30 | 81 | 15 | 24 | 32 | 63 | 80 | 49 | 374 |
| Roll-up | 50 | 81 | 40 | 48 | 24 | 63 | 80 | 49 | 435 |
We then decided to focus our efforts on the feasibility of installing a drip irrigation system at SLO Creek Farms. We consulted local apple farmers, like See Canyon Fruit Farm, agricultural irrigation specialists, like Brittani Axtell, agricultural experts here on Cal Poly's Campus, and the Gable Family who own the Farm.
Consultation Yield:
Apple tree water demand
Case studies and historical data on orchard drip irrigation
Feasibility of drip irrigation for SLO Creek Farms
Hydrualic specifications of multiple drip line types
Operating cost optimization
Hydrologic data (e.g., evapotranspiration rates, soil properties, flood mapping, precipitation, ground water)
Detailed Pump Information
Proposed Drip Line and Associated Appurtenances
The proposed drip line below, will deliver adequate flow to the orchard. It is also available in 100 ft rolls with maximum run lengths up to 200 ft. A "run" is defined as a stretch of line with out any appurtenances or added pressure. This line will also allow operational flexiblitity, allowing SLO Creek Farms to operate them at variable pressures and flow rates. This particular line has "in-line" emitters that will allow the line to be retracted with out damage to the emitter. Being able to retract the line is key for flood resistence. In the future, a reel would need to be designed to retract long stretches of drip line before the flood season. The following link provides detail specifications for this drip line:
http://www.irrigationdirect.com/dd-det250-6-100
1). 3/4′ Galvinized steel piper representative of riser pipe at the farm. 2). Two 3/4″ threaded female-male elbow to direct water down to dripline. 3). 3/4″ Threaded female to 1/2′ slip fit for drip line coupler. Has internal mesh screen to aid against emitter clogging. 4). 1/2″ drip line slip fit terminal coupler.
1/4″ x 100′ Drip Emitter Tubing – 1/2 GPH Emitters Spaced 6″ Apart
Assembled representative riser pipe to drip line connection with representative 5 foot section of drip tubing.
Water and Energy Analysis
The purpose of this Water and EnergyAnalysis is to identify sources of waste in terms of energy and water associated with the current irrigation scheme at SLO Creek Farms. Furthermore it will investigate current challenges, offer a set of alternatives to protect crop quality while conserving water and energy, and briefly discuss new system implementation.